As a result of the cattle market and associated cash values dropping considerably, producers are being forced to make some difficult decisions this summer.
Should you sell at weaning?
Should you keep calves grazing on good pasture and sell later with added weight?
There are important considerations to make before you decide to hold on to your calves after weaning.
"Cattle ranchers in the Southeast are blessed to have mild winters, which allow cattle to graze winter forages that provide more than sufficient protein and energy for adequate feeder cattle weight," stated Nicolas DiLorenzo, University of Florida extension beef cattle specialist, in a recent Panhandle Ag e-News.
Many stocker operations follow summer row crops with high-quality annual winter forages for grazing cattle. However, perennial summer pastures are not as suitable for promoting weight gain on weaned calves.
Common pasture grasses in the South, such as bermudagrass and bahiagrass, provide growing cattle a fair amount of the nutrients required for growth, but do not meet their total requirements. Bahiagrass usually has about 8 percent protein and 50 percent digestibility. However, growing cattle, gaining 2 pounds per day, need a minimum of 10 percent crude protein (CP) and 65 percent total digestible nutrients (TDN).
"Supplemental feeds will be imperative to fill the deficiencies in order for the calves to continue gaining weight," DiLorenzo says.
It may also be beneficial to consider planting some type of higher quality summer annual forage such as sudangrass or pearl millet. In the Florida Panhandle, the recommended planting dates for these are March 15 to June 30, but they can be successful if planted in July. The summer annuals will grow quickly, but take several weeks to reach a grazing height of 20 to 24 inches.
DiLorenzo notes that shade is an important and often overlooked factor. Heat stress has more of a negative effect on weaned calves than mature cattle. It results in reduced forage intake and, in turn, performance. Providing shade will keep the calves' core temperature cool, resulting in more time spent grazing.
"By considering your resources, risks, and the nutrient demands of weaned calves, you may be able to add value to your cattle by holding on to them a little longer this summer before they go to market," DiLorenzo says.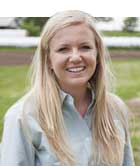 Sydney Sleep
Sydney Sleep grew up on her family's Angus operation outside of Spearfish, S.D. She is currently attending South Dakota State University where she is pursuing a degree in agriculture communications. At college, Sleep is an ambassador for the SDSU College of Agriculture and Biological Sciences, is a member of Sigma Alpha professional agricultural sorority, and works as the communications assistant for the College of Agriculture and Biological Sciences. She is serving as the 2016 Hay & Forage Grower summer editorial intern.