Many beef cows have a heavier mature weight and greater milk production compared to 40 years ago. As such, "Most commercial producers would underestimate the mature size of their cows," says Glenn Selk, Oklahoma State University emeritus extension animal scientist.
Large, heavy-milking cows require more feed than smaller, lighter-milking cows to reach moderate body condition at calving and maintain condition through breeding.
In a recent issue of the Oklahoma State University newsletter, Cow-Calf Corner, Selk noted that a 1,250-pound, heavier-milking cow needs about 34 percent more energy a year than an 1,100-pound, moderate milking beef cow.
Therefore, an operation that once carried 100 smaller cows will only be able to carry 66 larger cows with the same quantity of forage. Also, the larger cow requires 34 percent more winter hay and supplement to maintain body condition.
"As you take inventory at the end of the year, reconsider herd numbers and cow size to better fit the required stocking rates," Selk says.
He notes that if range and pasture conditions have deteriorated in recent years, reduced stocking rates are necessary. Diminished forage availability leads to poorer body condition and more supplement and hay feeding.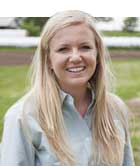 Sydney Sleep
Sydney Sleep was the 2016 Hay & Forage Grower summer editorial intern and is a junior at South Dakota University.