Fertilizing cool-season forages and some winter annuals like rye and wheat early in the spring promotes advanced growth and allows hay feeding to end prematurely.
According to Dirk Philipp, associate professor of animal science at the University of Arkansas, cool-season grasses have two distinct periods of growth. One starts in late February and peaks in May, and the other starts in the autumn and peaks in November.
In a news release from the University of Arkansas, Philipp notes that winter annual forages, including small grains like rye and wheat, exhibit high spring and fall growth rates as well.
John Jennings, Arkansas extension forage specialist, says that in two 2016 farm demonstrations, producers fertilized ryegrass on February 20 and subsequently produced enough forage to end hay feeding by mid-March.
Unfertilized ryegrass was only 3 inches tall compared to fertilized ryegrass that was 10 to 12 inches tall. Jennings says fescue will respond to fertilization similar to ryegrass.
For rye and wheat, fertilizer application rates are important because jointing is beginning.
"I recommend applying phosphorus and potassium fertilizer as guided by soil test recommendations for pasture," Jennings says.
If the soil test shows phosphorus and potassium are low, which may lead to an expensive purchase of nutrients, Philipp suggests portioning the applications out.
Unlike nitrogen, phosphorus and potassium are applied so that soil test levels remain consistent. These nutrients are relatively immobile in soil.
Potassium is necessary for proper functioning of enzymes, photosynthesis, and water use. If clovers are in the mix, potassium levels need to be kept in an optimum range.
Phosphorus is needed for early root development, winterhardiness, disease resistance, and drought tolerance.
Philipp notes to always apply nitrogen according to recommendations for the crop being fertilized. Nitrogen is mobile in the soil, so soil tests are not typically used to gauge crop needs. A typical cool-season grass spring nitrogen rate is 50 to 60 pounds per acre.
In spring, when soil temperatures are relatively low, the microbial activity is also fairly low. As a result, nitrogen can't be mobilized as quickly from organic matter as needed for rapid plant growth, so grasses will benefit from an application of synthetic fertilizer.
This targeted fertilization practice has proven successful for those participating in Arkansas' 300 Days Grazing Program. Producers have been able to extend their grazing seasons and reduce hay feeding.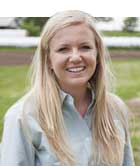 Sydney Sleep was the 2016 Hay & Forage Grower summer editorial intern and is a junior at South Dakota University.