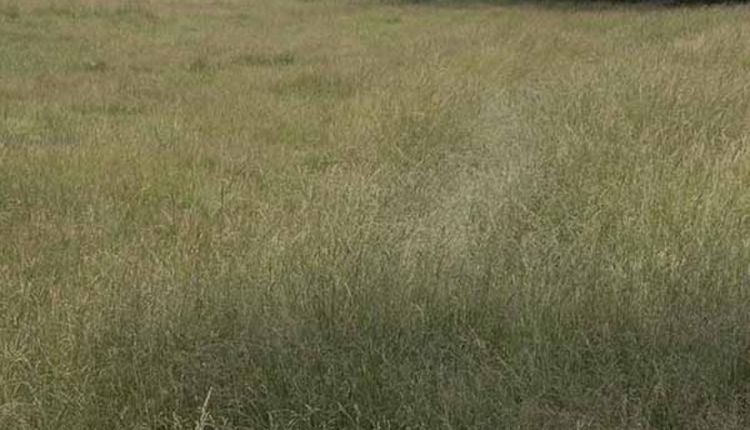 photo by Geoff Brink, USDA DFRC
Stockpiling pasture forage is a tried and true method to provide forage deep into the late fall or early winter. In the most recent edition of the Ohio BEEF Cattle Letter, Chris Penrose, Ohio State Extension educator in Morgan County, reminds livestock producers that a nitrogen application following the last grazing or cutting before fall stockpiling begins will improve forage yield and quality.
Though urea is the most common form of nitrogen used for stockpiling in many areas, Penrose notes that there is risk for nitrogen volatilization if soils are dry and/or rainfall doesn't occur soon after application. For this reason, use of a urease inhibitor such as Agrotain to delay the loss of nitrogen as ammonia gas into the atmosphere is advisable.
In southeast Ohio, studies and demonstrations have been conducted to evaluate quality and quantity of stockpiling cool season grasses such as tall fescue with no nitrogen; 100 pounds of applied urea (46 percent nitrogen); and 100 pounds of urea with Agrotain, applied at 4 quarts per ton of urea. At this rate, the nitrogen would be protected from volatilization for up to 14 days.
Stockpiling was initiated on August 8, 2014, for the replicated plots; tall fescue was clipped to 6 inches and the treatments applied. On August 11, the site received over a half inch of rainfall (0.59 inches), with more on August 12 (0.56 inches). Penrose notes that previous research had shown that a half inch of rainfall within 48 hours of application would help prevent the urea from volatilizing back into the atmosphere.
Plots were harvested on December 3, 2014, with yields averaging 2,369 pounds of dry matter (DM) per acre for the plots with no nitrogen; 3,147 pounds DM per acre for plots with 100 pounds of urea; and 3,210 pounds of DM per acre for the plots with 100 pounds of urea with Agrotain. Penrose explains that while there was no significant difference in the treatment yields, there was a clear trend for higher yields with the treatments.
There was a significant difference in crude protein (CP) for forage receiving urea with or without Agrotain. Crude protein averaged 6.77 percent for the plots with no urea; 8.53 percent for the plots with 100 pounds of urea; and 8.32 percent for the plots with urea and Agrotain.
In a similar study by Penrose in 2013, there was a wider disparity between the urea alone and urea with Agrotain treatments because no significant rain was received for over two weeks.
Penrose says his research confirms what other university studies have found. That being:
Stockpiling is an effective management tool to extend the grazing season.
Tall fescue excels as a stockpiled cool-season grass.
A nitrogen application following the final grazing or cutting before stockpiling will increase both the yield and quality of the forage.