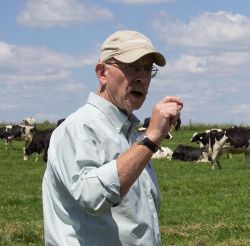 I was wrapping up a day of farm visits in the Blue Ridge Mountains of western North Carolina when my host asked, "Where are you staying tonight?"
"Sylva," I responded.
A quizzical look came across his face. "Why are you going down there?"
"I have to be at a farm in Tennessee early tomorrow morning, and that looked like a good launching point," I answered confidently as if three generations of my family had lived in the area.
The interrogation continued: "How are you getting across the mountains?"
I pulled out my cellphone and dialed up Google Maps. "I figured that I'd take Highways 28 and 129," I said. "It looks like the straightest shot to Madisonville."
"They call that road the Tail of the Dragon," my host replied without offering up any further details, then simply bid me "good luck."
That late-June night it rained hard. I awoke early and made some coffee, figuring I had about a three-hour drive ahead of me. Of course it was still dark, but it was also drizzling and foggy, as is often the case in the Blue Ridge.
The hotel's free breakfast buffet wasn't open yet, so I gathered my belongings, threw them in the back seat, and set my Google Maps route. This was a routine I had repeated many times in the past.
The initial leg of the trip occurred without incident. With the fog, road signs were a little hard to decipher, but I had the Google lady documenting my every move. I've often wondered about the Google lady's spouse and what it's like for that couple to go on a trip. Does she sit in the front seat and relay directions to her husband such as "Stay in the right lane, then in 500 feet turn right on Maple Drive . . . turn right on Maple Drive."
When I turned onto U.S. 129/Highway 28, it became acutely obvious that this wasn't going to be any ordinary road trip. Tree branches from the earlier storms littered the road. My maximum speed was reduced to 35 miles per hour; 5 mph was more appropriate around the curves. Road shoulders became a distant memory. The only redeeming quality of this road on that morning was nobody else but me was stupid enough to be driving on it given the weather conditions and lack of daylight.
In my quest to tame "The Dragon," I got to the point where 90-degree turns were welcomed; it was the 180-degree offerings that intimidated. This wasn't a U.S. highway, it was more like a military obstacle course for Humvees. I was expecting the Google lady to at some point start laughing hysterically through my cellphone, followed up with an "I got another one!"
In my later research, I would learn that the Tail of the Dragon offers up 318 curves in an 11-mile stretch. Websites describe it is a "must ride" destination for motorcycle enthusiasts from around the world. But before you book your trip, I also would mention that there is an online map that documents extensive fatalities of those who didn't make it and denotes exactly which curve was their last. As for me, I was just looking to get to the next dairy farm, which I eventually did, albeit with white knuckles.
Here's hoping your road through 2019 is a straight one.
---
This article appeared in the January 2019 issue of Hay & Forage Grower on page 4.
Not a subscriber? Click to get the print magazine.