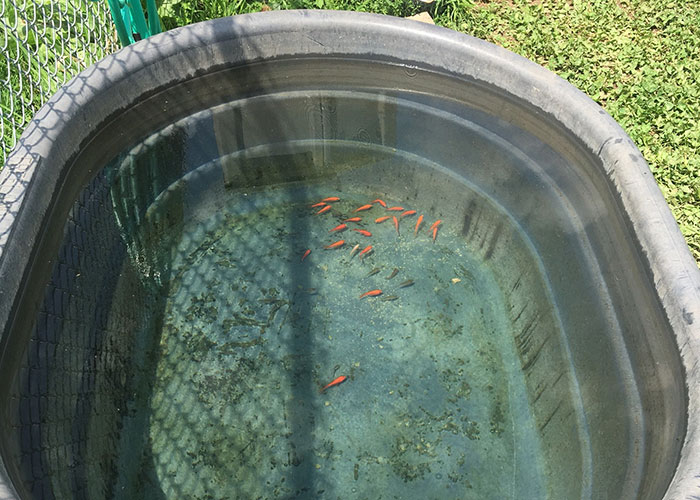 Photo Credit: Devan Catalano, University of Minnesota
Don't be surprised if you find friendly fish swimming around pasture water tanks on some farms. As crazy as it may seem, keeping goldfish in water tanks has been reported as a method to keep water clean, but whether the strategy actually improves water quality is still under question.
The University of Minnesota (UMN) recently conducted research with the objective to evaluate the fish's ability to maintain water quality in tanks and understand the frequency in which this method is used.
Krishona Martinson, equine specialist with UMN extension, explains in her Horse Newsletter article that the research began in June of 2017 and concluded with an online survey documenting experiences with the practice. The first step was to evaluate the validity of the method for maintaining water quality.
Using plastic and metal 100-gallon stock tanks, each with and without goldfish (five per tank), the research team took daily and weekly samples to evaluate total dissolved solids, water turbidity, and chlorophyll a (the type used in oxygenic photosynthesis) levels. The tanks were in drylots that housed six adult horses and were cleaned and rotated every 28 days.
The plastic tanks had lower dissolved solids than metal tanks, but had higher turbidity and chlorophyll a levels. Martinson explains, "Adding goldfish resulted in lower total dissolved solids; however, there was no effect on turbidity or chlorophyll a." Additionally, no changes in these measurements had an impact on the horse preference.
To understand the frequency the goldfish method is used, a follow-up survey was made available from October 31 to December 15, 2018. "Of the 672 completed surveys, 56 percent had not tried using goldfish in water tanks, 26 percent had utilized goldfish in the past, and 18 percent currently used goldfish," Martinson reports.
The research was not decisive enough to recommend this method for water quality management. "Goldfish should not replace frequent cleaning as a way to maintain water quality," Martinson concludes.
For more information on the UMN research, click here.
---

Michaela King is serving as the 2019 Hay & Forage Grower summer editorial intern. She currently attends the University of Minnesota-Twin Cities and is majoring in professional journalism and photography. King grew up on a beef farm in Big Bend, Wis., where her 4-H experiences included showing both beef and dairy cattle.