The horror stories we heard last week in conjunction with Halloween pale in comparison to some of the haymaking accounts that were told during this past growing season.
Relentless rain, delayed cuttings, rained on hay, and rutted fields all played into the haymaking storyline for 2019, especially for the first cutting.
Ohio State Extension educators Ted Wiseman and Dean Kreager recently shared forage quality testing results from 45 samples of 2019-harvested hay (see graph). There were also four haylage samples in the data set.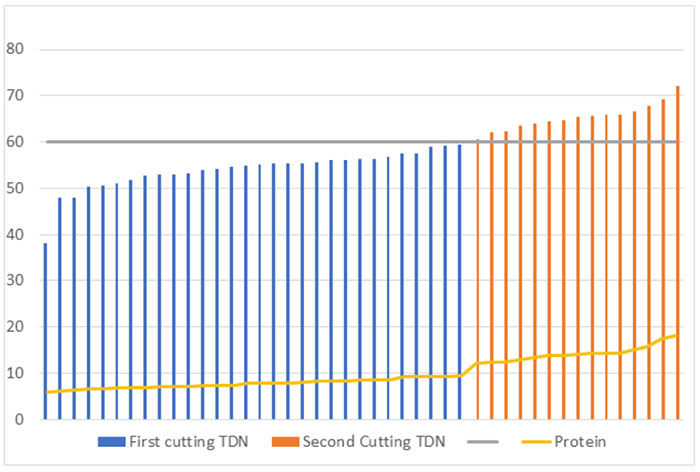 This analysis shows a dramatic difference for total digestible nutrients (TDN) and crude protein (CP) between first and second cuttings.
The gray bar on the graph at 60 percent TDN represents the needs of a beef cow at peak lactation. For final trimester cows such as those that will calve next spring, TDN requirements are lowered to 54 percent.
"At 54 percent, it would appear that some of the first cutting would be adequate; however, when we factor in the moisture content and the limitation on the total pounds a cow can possibly consume, none of these first cutting samples completely met the energy needs of the cattle," the authors explain. "If you add in the increased energy needs from rain, mud, cold, and snow, the animals will be losing body condition through the winter if they are not receiving an energy supplement."
The extension educators also note that at least 8 to 9 percent crude protein is needed to meet the requirements of a cow in its third trimester. Only some of the first-cut samples would be adequate to fulfill this requirement.
In contrast to first cutting, all of the second-cut samples would provide the needed amount of energy and protein for an early lactation beef cow.
"Thin cows are more likely to produce calves that are less healthy and will not grow as well," the extension educators note. "Those cows often take longer to breed back, which will carry into the next year with later born calves."
First-cutting forages usually comprise a large percentage of the total forage inventory on a farm. The educators encourage producers to make a detailed account of both the quality and quantity of forages that will provide feed for the winter.
"The cost of a forage sample is minimal compared to the costs associated with lower body condition scores, low birth weights, and poor milk production," the authors explain.
Once forage quality and quantity are documented, producers need to work with their nutritionist to help formulate a complete beef ration that will help hold body condition through the winter.