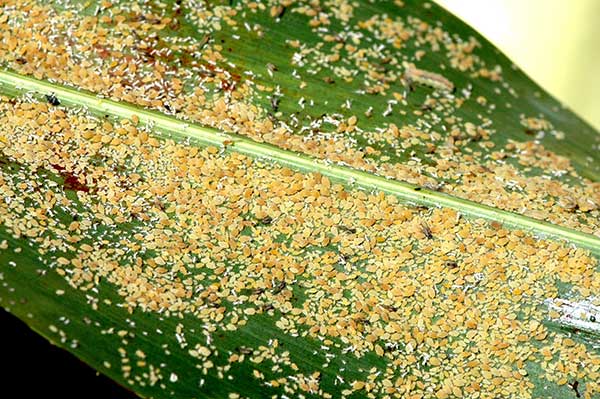 Kay Ledbetter, Texas A&M AgriLife Communications
Farmers in the South no longer can take for granted a healthy, productive sorghum crop — even for forage.
While researchers and plant breeders look for answers and refine recommendations, the sugarcane aphid has led some farmers to seek other alternatives rather than battle this pest with a limited toolbox. Others just do what it takes to keep the aphid under control.
The destructive aphid has spread across the South over the past several years and, when left unchecked, has caused significant production loss to species such as sorghum, sudangrass, johnsongrass and pearl millet.
"Arrival time of the insect determines the degree of potential loss," says Ed Bynum, Texas A&M AgriLife Extension entomologist.
In a recent edition of AgriLife Today, Bynum notes that there can be as much as an 80 to 100 percent crop loss if sugarcane aphid infection occurs while plants are still in the preboot stage and the field is left untreated. For boot-stage arrivals, the potential yield loss lowers to a still devastating 52 to 69 percent; at seedhead emergence, potential yield loss is pegged at 67 percent. Even if infection doesn't occur until the soft dough stage, Bynum cites potential losses at 21 percent.
As a testament to the damage that sugarcane aphid can impose, field research during 2015 in Lubbock, Texas, documented a 74 percent yield loss between treated and untreated yield loss.
Once sugarcane aphids take up residence in a field, it doesn't take long for populations to multiply rapidly. Explains Bynum, "All sugarcane aphids are females. New aphids are born pregnant, have a live birth and survive for an average of 28 days. The new aphids only take four to 12 days before they become an adult and can start giving birth to one to three offspring per day."
Sugarcane aphids cause damage by sucking plant sap with their piercing mouthparts. Excess sap is bypassed out of the aphid onto the leaf surface. This so-called honeydew becomes a substrate for black mold growth, which reduces the plant's photosynthetic efficiency. Severe infections weaken the stalk and are cause for plant lodging.
Bynum suggests early planting as the best defense against limiting aphid damage. This helps to ensure the crop reaches more advanced stages of maturity before the sugarcane aphid becomes an issue. "We also recommend insecticide seed treatments for all sorghum, regardless of planting date," he says. Even with early planting and treated seed, you have to scout and be ready to apply an insecticide if needed.
Chemical control of sugarcane aphid took a hit when the Environmental Protection Agency recently cancelled the label for Transform insecticide. Now, Sivanto is the only effective chemical option that is safe for beneficial insects. Vigilant scouting is needed both before and after chemical treatment. Often more than one application is necessary for season-long control.
Bynum notes there are some sorghum hybrids that are more tolerant or resistant to sugarcane aphid than others. "Even these hybrids will need to be monitored for chemical treatment," explains Bynum. "None of them provide complete control but they might reduce yield loss or save one chemical treatment." Beneficial predator insects can also aid in control.
In the Texas High Plains, the revised recommendation for sugarcane aphid treatment is when 20 percent of plants have aphids in the preboot stage; 20 percent of plants have no more than 50 aphids in the boot stage; and 30 percent in the flowering (heading), soft dough and dough stages. Check with your state's extension office for localized treatment recommendations and pest status throughout the growing season.