With the long, hot days of summer rapidly approaching and the inevitable possibility of drought, even the hardiest of perennial forages can struggle staying productive.
"In order to protect our perennial forages for long-term stand life, there are times we should evaluate alternative forage options," says University of Georgia beef specialist Jennifer Tucker in a recent issue of the Southeast Cattle Advisor. Summer annuals are heat and drought tolerant and can be used for grazing or as a stored feed.
According to Tucker, summer annual forage grasses are an excellent choice for a temporary pasture alternative. They are easy to establish, have quick emergence, and offer high productivity in a short amount of time.
Summer annuals include forage sorghum, sudangrass, sorghum x sudangrass hybrids, millet, teff, and corn. According to Rory Lewandowski, an Ohio State University extension educator, with adequate soil fertility and minimum moisture, these species can produce 3 to 5 tons of dry matter over the summer. Most can also provide two to three grazing passes or cuttings starting 30 to 45 days following planting.
Though they may not always be needed every year, summer annuals reduce the risk of overgrazing perennial pastures or dipping into stored feed supplies, making them a good double-crop alternative.
Planting in the spring is recommended for summer annuals, but they can be planted later than most crops and still provide adequate yields within about six weeks. "Forage quality is good at young, vegetative growth stages but declines rapidly once the plant enters reproductive growth," says Lewandowski in the Ohio Beef Cattle Letter.
All summer annual grasses respond to nitrogen and best yields will occur when 50 pounds of actual nitrogen per acre is applied before or at planting, followed by 30 to 35 pounds per acre after each cutting or grazing pass.
However, summer annuals can accumulate nitrates in low portions of the stem during drought, so it is recommended to lower nitrogen application rates if dryness persists and make sure livestock do not graze lower than 8 inches in order to reduce the possibility of nitrate toxicity.
All the species can also be mechanically harvested for stored feed. Since summer annuals have a high moisture content, produce large amounts of tonnage, and are difficult to dry, baleage and silage are often the best harvest and storage options, though teff can be dried and baled.
Contact your local extension service for specific seeding rates and recommendations for annual forage production practices.
---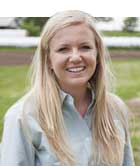 Sydney Sleep
Sydney Sleep grew up on her family's Angus operation outside of Spearfish, S.D. She is currently attending South Dakota State University where she is pursuing a degree in agriculture communications. At college, Sleep is an ambassador for the SDSU College of Agriculture and Biological Sciences, is a member of Sigma Alpha professional agricultural sorority, and works as the communications assistant for the College of Agriculture and Biological Sciences. She is serving as the 2016 Hay & Forage Grower summer editorial intern.