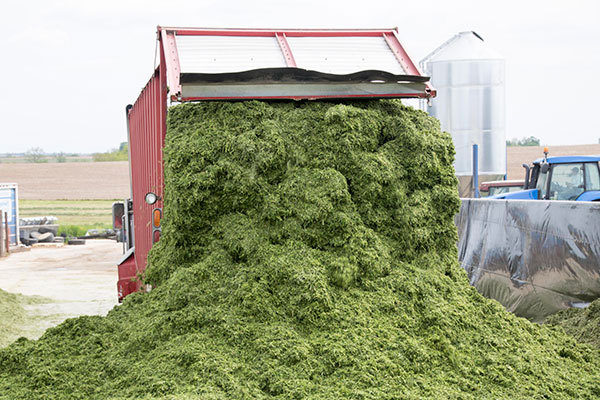 Forage quality is a significant player in our high-producing dairy herds.
This was one of the conclusions made after 14 high-producing Wisconsin dairy operators were surveyed regarding their feeding practices.
Randy Shaver, University of Wisconsin extension dairy scientist, offered results of the study during his presentation on the Dairy Forage Seminar Stage at World Dairy Expo while addressing key forage performance indicators for high-producing dairy herds.
Looking at past and potential future milk production in the U.S., Shaver cited a study that projected herd average for milk production will likely double to near 40,000 pounds per cow annually by 2055.
"This kind of sets the stage for what we're going to be looking at for forage quality as we move forward," Shaver said. "We already have herds averaging near 40,000 pounds per cow."
In looking at the 30,000-pound-plus Wisconsin herds, Shaver demonstrated the importance that high-quality forages are playing.
"When I took out the energy and protein supplied by the concentrates, the forage component of these rations was responsible for about 60 pounds of milk per day on a per-cow basis," Shaver said. "On a milk per ton of forage dry matter basis, it was slightly more than 3,000 pounds of milk."
Shaver found that forages were playing a significant role in replacing the need for purchased supplemental nutrients.
"In these herds, forage was providing about 75 to 80 percent of the fiber in the ration, 45 percent of the protein, 40 percent of the starch, 55 percent of the nonfiber carbohydrates, and 50 percent of the energy," Shaver noted. "The combination of alfalfa and corn silage is going a long way in meeting the needs of the high-producing cow and that translates to less purchased concentrate feeds."
Hitting the target
In summarizing forage test results from four prominent U.S. labs during the past several years, Shaver offered some forage quality targets that dairy operators might want to consider if high-milk yield is a goal.
"I'd suggest you set a target range bracketed by the average value and plus or minus 1 standard deviation (SD) depending on the measure," Shaver said. The target ranges for various silage types are presented in the table below.
Aside from the forage quality metrics, Shaver reminded dairy producers to also consider factors such as proper storage techniques and maintaining high enough forage yield levels to meet feed needs.
"It's always going to be important to preserve forage quality with proper packing, silo covering, and the use of inoculants," Shaver said. "We also need to realize that in most cases we're not trying to maximize forage quality, but rather trying to optimize forage quality within the parameters of a given yield level. We need to maximize harvested digestible nutrients," he added.
To conclude, Shaver noted the importance of adjusting rations based on the availability of quality forage. Where adequate quantities of high-quality forage are available, it's possible to feed 60 to 65 percent forage diets and put a 24 percent forage NDF ration in front of the cows.
"In some cases, there may be limited forage supplies but readily available high-fiber by-product feeds," Shaver said. "In this case, forage quality may be less important as forages will comprise a smaller proportion of the overall ration, perhaps only 35 percent."
The continuum of the amount of forage fed varies with both geographic region and sometimes by year on the same farm. Shaver noted it's possible to get high milk production with either approach as long as rations are properly balanced.