Raising oats in the fall as forage for cattle is gaining popularity among dairy farmers.
Wayne Coblentz, a USDA Agricultural Research Service dairy scientist in Marshfield, Wis., says that oats provide production advantages over winter wheat and cereal rye. This advantage occurs because winter wheat and cereal rye cultivars planted in the late summer will remain vegetative until the following spring. However, oat plants will joint, elongate, and produce a seedhead before winter.
"Fall forage production of oats will, therefore, outyield winter wheat and cereal rye by about a 2–1 ratio," Coblentz says in a University of Wisconsin Focus on Forage fact sheet.
The oats should be seeded in Wisconsin in early to mid-August, and grazing can be initiated during the last week of September and continue through late November. Oats can also be harvested as silage in early November for later use. The strategy allows production of an additional forage crop before winter.
To test which cultivars are best, Coblentz and his colleagues planted an early- and late-maturing variety in August and allowed dairy heifers to graze for six hours per day at two starting dates: late September and mid-October.
After two years of grazing, the results showed that it is better to allow the cattle to graze early in the fall. Also, the late-maturing oat varieties produced higher quality forage.
Fall oats are typically planted following the harvest of cereal grains, or in fields where alfalfa has been killed off.
Deciding when to allow cattle to start grazing fall oats and which cultivars to use are important. If cattle are allowed to graze too early, they quickly consume what is available and get less forage than if the oats were allowed more time to grow. However, grazing cattle later in the fall runs the risk of inclement weather and losing oats under snow cover.
"Fall-grown oats should be considered stockpiled foraged for deferred grazing," Coblentz says.
He adds that the most complete utilization of fall-grown oats by grazing livestock will be accomplished by a one-time removal of standing forage and limiting available forage to what is required to support livestock for one or two days.
Allowing livestock access to more forage will reduce labor but will also lessen utilization and result in more waste.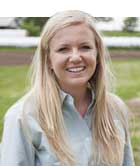 Sydney Sleep
Sydney Sleep was the 2016 Hay & Forage Grower summer editorial intern and is a junior at South Dakota University.